Miscellaneous Parts
Low Pressure Regulator Foregrip $175

Hidden/sleeper LPR. Low pressure line exits LPR at the top of the foregrip. Airline is routed through the rail into the grip frame to the pneumatics. Supply air from the tank is ran to the bottom of the foregrip, there is a recessed cavity to hide the airfitting. LPR is adjusted from the bottom of the foregrip. Mounting hardware and LP nipple included. Curved Face >
Straight Face >
Standard design, two options >
Alternative (market test) designs >
---
Offset Wedge Dovetail Mount $25
Offset Wedge T-Slot Mount $30
Adapter Plate to use with direct mount ASA $12 (Use with T-Slot Offset Wedge)
Hardware included.
Adapter plate >
Dovetail mount >
T-Slot mount >
---
EP Remote Blocks $19 each
No hardware included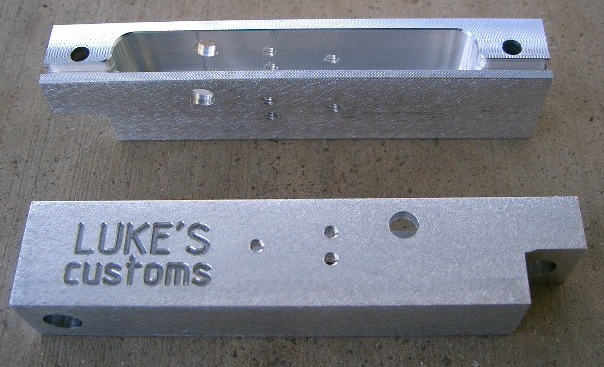 ---
Classic and X Valve Efficiency Inserts $25 each
Each insert comes with a powertube replacement o ring.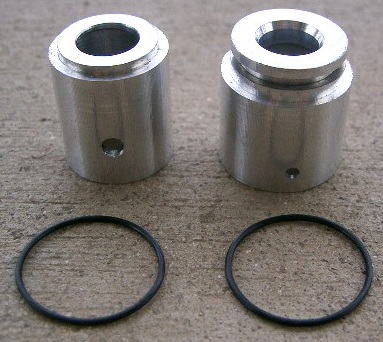 ---
Armageddon on/off knob $15
Available in Black or Raw
This simply allows you to adjust your air pressure down (off) until no air is going to your marker.
---
Off-Set Rail $26
This is a 3/4" off set rail with a dovetail mount.
Comes with all mounting screws.
This is a super setup with the Y&Z grips, but it will work with any frame.
---
SS MPA-3 Rams $4 each
---
Universal Automag Vert Frame Panels (Aluminum).
M90, VER, Logic or RPG
$55 Dust Black or Raw
Comes with screws.
Panels do not have a "flat face" like typical panels, they have a nice convext shape.
All panels come ULE milled, ready for a LPR (m90) or a soleniod (VER).
NOTE:
These panels can be used on ALL vert mag frames that have been made to date, with the exception of Big Evils E-frame, that still needs to be verified.
If you intend to use them on the Logic frame it will need additional machining, (Along the bottom to clear dove tail) LMK when you order so I can machine them down. (No extra charge for this) THESE PANELS ARE NOT ELIGIBLE FOR ENGRAVING, SORRY.

---
Springs and Plungers
Springs are 6" in length.
$1 each
10 or more $0.75 each

Plungers and screw: $8
Plunger measures .740" OD
---
AGD Intelliframe mounting plate $10 ea.
Plate is made from 1/8" aluminum and machined to fit flush to the face on the left side of the frame (behind the intelli switch mount)
The factory brace must be removed or machined down for the plate to fit in the frame.
Plate comes with : (2) 6-32 screws (2) 6-32 nuts (2) #6 flat washers.
Picture of front and back of plate.
(Frame only requires 1 plate)
---
Tac-One Eye Covers $16
---
Spyder Sear and Spring (NEW) $6.00 each